Bigg Boss 7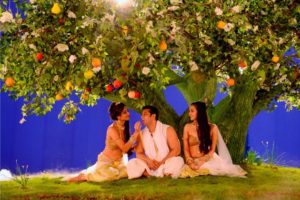 Big boss is one of the most popular reality shows in india.  Teaser of bigg boss 7 is out and the show will be hosted by Salman khan again. By the name 'bigg boss', one thing that comes to everyone's mind is entertainment entertainment and entertainment. Salman khan grabs attention of  the old people as well as the new generation . Salman khan came up with a new mantra this time called as 'by god' in bigg boss 7. The theme that is used is the angels and the devils.
So guys what's your perception?
Salman khan will be better as a devil or an angel?
Each season of Bigg boss is innovative and fresh.
The angelic avatar of Sallu is been appreciated by his mom and sister.
Salman talked about that he is looking forward to the show and he says,
"I am expecting the best of both worlds.

Hell and heaven are both here."
Talking about the theme of the promo, he adds,
"The concept is close to the lives we live."
The angel or the devil, which does Salman most relate to?
"I believe in being human; angel and devil are just the roles I play,"
he says.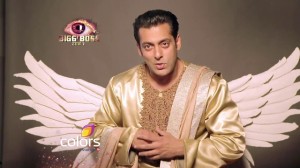 Salman would be charging 5-7 crore per episode. The theme used in this season is hell or heaven. Rajesh Iyer, Marketing Head- COLORS says,
"This season Bigg Boss will make sure that you get to see heaven and hell both saath-saath on Bigg Boss Season 7."
Hemant Kumar Sivan, executive creative director, Orchard Advertising says,
"An iconic reality show like Bigg Boss faces a challenge every year to deliver something new and unique. This year is we had the task of presenting Bigg Boss in a way, that raises the curiosity and interest levels amongst people. The next challenge was to present Salman Khan in a fresh manner.  While working on the concept of heaven and hell, we took inspiration from the mythological space and gave it a contemporary spin by articulating the pleasure of heaven with 'Wow' and the pain of hell with 'Aao' "
Listed of the peo0ple that are expected to be as the part of the show are-
Hazal Keech

Sangram Singh

Shilpa Saklani

Ratan Rajput

VJ Andy


Kamya Panjabi

Tanisha Mukherji

Pratyusha Banerjee

Kushal Tandon

Gauhar Khan

Apoorva Agnihotri

Anita Advani

Rajat Rawail

Armaan kohli

Elli Avram
Check out the trailer below-
Don't forget to check out latest Big Boss 7 Gossips.