Comedy Nights With Kapil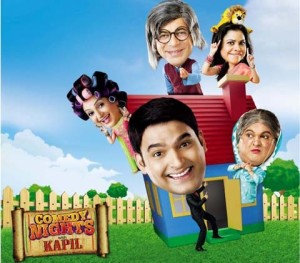 Comedy Nights with Kapil a comedy show on colors. Kapil Sharma is seen in multiple roles of an actor, scriptwriter and producer in his production debut . He presents everyday life in a fresh ad unique way. Kapil Sharma was also seen in comedy circus and he won all the shows of that serial . He is even the host of show Jhhalak Dikhla Jaa and also seen in serials and reality shows like Chhote Miyan,  Great Indian Laughter Challenge & Hans Baliye . He is a very natural ,talented and spontaneous actor. Comedy nights with Kapil is a  copy of  British comedy show named 'The Kumars At No. 42'. and Kapil is be seen doing multiple avatars.
Cast:
Kapil Sharma as Himself
Sumona chakravarti as Mrs. Sharma
Ali Asgar as Dadi
Sunil Grover as various characters (his character Gutthi is going viral)
Atul Parchure as various characters
Upasana Singh as Bua
Naseem Vicky as Kapil's Servant
Navjot Singh sidhu as Judge
Soni singh as Assistant
Navjot Singh Sidhu is the judge of the show. His sayings about the show is that  he will do shows meant for the entire family as he does not promote double meaning jokes. "For me the definition of comedy is to make" …
Many stars like Vidya Balan, Emraan Hashmi, Ranveer singh, sonakshi Sinha, Dharmendra, Arjun Rampal, Huma Qureshi have been seen in this show as a guest and now Sharukh khan and deepika will be seen promoting there movie Chennai expess on comedy nights.
Check out the launch episode of this show below.

To watch all the episodes of this show online subscribe to Colors Channel on Youtube or Select Episode Here.
Make your weekend filled with comedy and check out this show Saturday and sunday 10PM onward.
Its is definitely worth your time and you shouldn't miss it if you love to laugh :D.
Sunil Grover who played the character of Gutthi is no more in this show. We want Gutthi back.