Kasam – Tere Pyaar Ki
** TAKE ROMANCE TO ANOTHER LEVEL **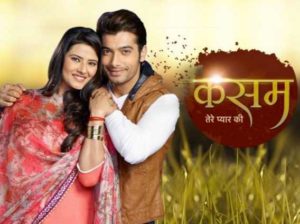 In our busy and mechanical lives, it feels good to sit down & watch something nice on the Television. And in the process, if you can bring romance back into your lives, then why not? Colors TV has recently broadcast a series called Kasam – Tere Pyaar Ki on the 7th of March this year. It is a romantic series which airs every Monday to Friday at 10 in the evening. Just like all the other series that have been brought by Ekta Kapoor, this one is also capturing the hearts of the Indian audience.
Punjab a favorite backdrop for love sagas is the stage for this series. It takes the viewers through an interesting journey of time and love which tries to survive all tests. The lead roles have been perfectly played by Shivani Tomar & Sharad Malhotra. All the other actors and actresses are also well experienced and have shown their prowess before.
The story revolves around Tanu and Rishi who fall in love but fate and tragic circumstances separate them. The ever interesting and questionable concept of rebirth and 'punarjanam' are prevalent in this story and allures more viewership.
The reviews for this series have been all round positive and the on screen chemistry of the love birds Kratika and Sharad have been highly appreciated. It is especially liked as love has been shown in its purest, most powerful and most unexpected form. Yes, this series has drama, deep twists, tragedy, love and other emotions that go along with us humans. It touches our inner core and makes you want more and wait for the next episode to find out – what happens next.

Like all the previous Balaji Productions, yet again they have created a musical spell with the title song. This series which is fondly known as kasam has melodious and scintillating background music too. All are welcome to join the fan team and enjoy your evenings.