Madhubala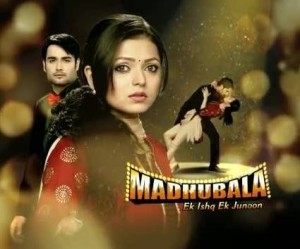 Madhubala is a popular Indian TV Serial that started on Colors TV on May 28 2012. The genre of the serial is drama + romance and it is produced by Saurabh Tewari & Abhinav Shukla. The tagline of the show is "Ek Ishq Ek Junoon".
Main Cast
Vivian Dsena as Rishabh
Drashti Dhami as Madhubala
Sikandar Kharbanda as Sikandar (Siki)
Seema Mishra as Deepali
Story: Madhubala the main lead is born on a film set and lives in chol of Mumbai. She is very sweet and self respected girl. RK (Rishabh Kundra) is a super start and due to some anemities he marries Madhubala on contract basis and tortures her. After some time RK pretends to be a changed man but again deceives Madhu. Madhu also decides to take revenge against him but her conscience doesn't allow her. As time passes they become good friends and sicnere to each other. Finally they decide and get married gain, but this time in a proper way. They become good and loving husband and wife and started living happily but the producer (Amar) starts creating problems.
Madhubala Songs
Song 1- Hum Hai Deewane Tere Deewane

Song 2- Bas Haq Hai Ek Mera (with Video)

Download the mp3 songs of Madhubala: Ishq Tu Hi
Source and More Songs at: India-Forums.com