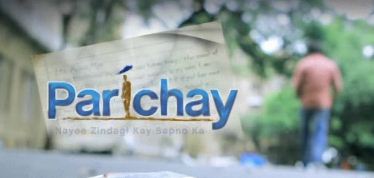 Produced by legendry Hindi television producer Ekta Kapoor of Balaji Telefilms, Parichay is the latest fiction offering on Colors. It is one of the most watched shows in this channel currently. Parichay centers round a middle class Punjabi family based in Mumbai, portraying love, care, struggles and strong bonding amongst its members.
Parichay Title Song Video

Storyline: The story revolves round a fallen hero Kunal Chopra (Samir Soni), a young advocate and the eldest son of the family. In spite of being a member of the family with high social values, he loses his zest in life due to unwanted failures and misfortunes compelling him to lead a lackadaisical life. Kunal was once a career oriented and successful lawyer. He was also in love with the daughter (Richa) of a senior advocate who aroused some unwanted issues for which their relation broke off.
Richa gets devastated and traumatized when she came to know that Kunal got married to a young Maharashtrian girl, Siddhi (Keerti Nagpure) a lawyer by profession. Kunal's married life with Siddhi on the other hand was just a compromise and was not working well. Kunal became an unsuccessful person professionally and personally being shattered by life. The show took a serious twist when the richa plotted a false rape case against him in order to take revenge of her unsuccessful love making his life more miserable.
In such a critical situation, his wife stood by him, inspires and motivates him to tackle the emerging crisis.
Download Parichay Songs and Background Tunes
Title Song of Parichay is infact a wonderful song from a Bollywood Movie Dil Kabaddi. You can download that song from Songs.pk link.
If you want any BG tune from this serial please request is with the date and time or point us to that episode from youtube.
Watch out the show everyday on colors to know how Kunal overcomes the situation and finds his way in life.