Shakti – Astitva ke Ehsaas Ki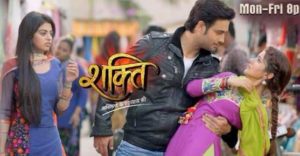 Shakti – Astitva ke Ehsaas Ki is a family drama series having various angles. The main characters are two sisters Surbhi & Soumya who are brought up together, but Surbhi is the apple of everybody's eyes, especially father's & grandmother's, but Soumya gets her share of love only from her mother. Eventually, Soumya grows up to a shy, cute girl while Surbhi is a playboy kind of being. One fine day, a goon Harman (played by Vivin Dsena) forcefully enters into their house and is mesmerized by Soumya's beauty.
He enters the house because Surbhi sends some goons to fight with him to avenge the misbehaving of Harman's friend with a girl in college. As a reaction to this, Harman plans to kidnap Surbhi, but accidentally kidnaps Soumya & ends up marrying her because of societal pressure, as they both stay together in night and Soumya comes under the scanner of villager's moralistic radar.
Harman, being in love with Soumya, does all possible things to woo her, takes very good care of her. But, they are not yet able to solemnize the marriage because of lots of incidents happening around them, which are actually created by Soumya's father and grandmother. Why Soumya is hated so much by her father & grandmother? How Harman protects her? How Surbhi stands for her sister and tries her best to ensure that she is always happy, are some of the points around which this family drama revolves around.
Surbhi and Soumya are played by Roshni Sahota and Rubina Dilaik respectively while Reena Kapoor plays the role of their mother in this series. Other important roles are played by Ayub Khan, Sudesh Berry, Kamya Punjabi etc. The series is aired on Colors TV on weekdays and it is produced by Rashmi Sharma Telefilms Limited.
Tere Ishq Hai Meri Ibadat Title Song from Shakti – Astitva ke Ehsaas Ki Serial