Thapki Pyar Ki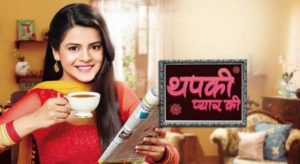 A STORY OF OVERCOMING OBSTACLES
Thapki Pyar Ki is a story of a girl named Thapki who defines perfection in every aspect with just one exception- her speech. Even while stammering the girl puts up a bold fight & stands strong against what she thinks is wrong to prove herself to the world. And when she does get down, all she needs is a 'pat' of love or 'Thapki Pyar Ki'. Being a small town girl, Thapki has her own big dreams of achieving big for herself and her family. Even though the girl is not able to speak properly because of her stammering, Thapki never slows down or give up, getting through all the loops thrown at her. There is no early progress but she determines to win, she crosses every hurdle to get a job & perform well.
At the job, Thapki falls for her boss Dhruv who himself is very attracted to the girl. After being introduced to the family, everyone likes Thapki except for Dhruv's mother who is reluctant to get them both married because of Thapki's stammering. Giving this a final thought, Dhruv's mother asks his brother Bihaan (raised by their father, adopted from the street) to intervene and marry Thapki. Bihaan makes sure that Dhruv misses his own marriage and replaces him as the groom. Thapki realizes day after her marriage how she had been tricked and struggles to keep up with the emerging problems.
Bihaan & Thapki somehow have managed to conquer all odds and save their marriage despite several problems. The story now revolves around the struggles that they have to face and the misunderstandings that they need to overcome to keep the bonds in their family strong as ever. Thapki Pyar Ki truly shows how well an individual can overcome their issues & problems despite their special challenge to get love and spread it all over.
Title Song of Serial