Gustakh Dil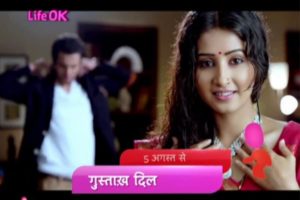 Wanna se a love triangle in small screen? Usually we see love stories in bollywood movies. But, a brand new Indian show on Life OK started on 5 August 2013.  Its is a Love comlicated story in which there's a Love triangle between 3 people named Laajo, Nikhil and Ishana. The show is produced by Ravi Ojha.
Plot: Laajo is a Villager who is a simple n' sweet girl. She gets married to a big city guy who is cool and young. The main bollywood'ish twist is that he is married, but actually already in love with her childhood love Ishana. Laajo becomes the second women of Nikhils life. Reading the plot makes you to want more? Check out the show promo below:
This show is replaced by Amrit Manthan that used to run for a long time on Life OK.
Cast
Sana Sheikh as Laajo
Vibhav Roy as Nikhil
Parvati Sehgal as Ishana
Meghna Malik as Barkha
Khushwant Walia as Akshay
Sana Sheik is an actor as well as RJ at Radio Mirchi. She has been in many other serials like Mann Kee Awaz Pratigya and Sasural SImar Ka. Sana says : "I feel all the roles that I have portrayed have been very different from each other and every role is special to me as I have learnt a lot from it." In this story Laajo's husband becomes Laajo' best friend and his heart truly lies with her childhood love Ishana.
Why is Laajo tolerating such a relationship with her husband? Do watch out this weird story of love every Monday to Friday at 7.30pm.
There is nice title song or background tune in this serial. It is as "Teri Ujhane….. Gustakh Dil"
Download*
Posted at India-Forums.com
There is no more title song released for this serial yet. When new background tunes, theme songs will be released it will be updated here. Do bookmark us or like us to get latest updates.