Kya Dil Mein Hai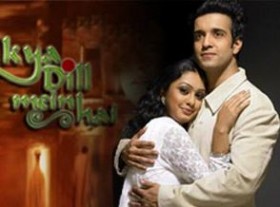 Kya Dil Mein Hain is yet another soap opera from Balaji Telefilms, produced by Ekta Kapoor. The show was aired on 9X channel during the weekends for a running time of 1 hour. This is the second show by Ekta kapoor for 9X channel. The story is about a Bengali girl named Kakoon and her journey in her life. She meets Anurag, the lead character of the story, at a railway station. Kakoon misunderstands Anurag to be her brother-in-law and takes him with her to their home. When the air is cleared, the family members ask Anurag to stay in their house to cover the wedding as he is a photographer.
Kya Dil Mein Hai Title Song
More about this serial: Though the serial run for a short period, it did attain good TRP's as it was aired during the prime time slot and in weekends. The story then continues with Anurag falling in love with Kakoon. He tries his best to express Kakoon. She slowly falls for him and they both are in love. But, the twist only comes when Kakoon's grandfather asks Kakoon to marry the guy whom he has chosen. How they fight for their love and how they convince their parents is the rest of the story.