May I Come In Madam?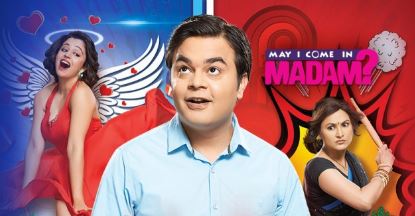 If you are a person who likes Comedy, then this is the serial for you. It is a Hindi sitcom which will have you in peals of laughter. It has been superbly produced by Edit II productions & the lead roles are excellently portrayed in May I Come In Madam? by Sapna Sikarwar and Sandeep Anand.
The story revolves around Sandeep and Sapna. However, what is special is also the role played by Anup, who is the father of Sandeep's love interest, who is also his boss. The reason why the character is so special is that in spite of being the owner and chairman of the firm, his avatar is of the office peon.
Sandeep's role is of a mentally tortured man who is a manager in the firm "Use Me Advertising". He longs for privacy and time with his wife, but thanks to his intrusive in-laws, he is denied that repeatedly. The bane of his existence is literally his mother-in-law played by Shoma Rahod and Deepesh Bhanu who plays the role of his brother in law. To add to the confusion, he falls for his boss Sanjana, who is played by Neha Pendse. Sanjana is both attractive and an authoritative new boss. She is mysterious, but straightforward as well. To add to the complications is the fact that she is Sajan's wife's friend and therefore bullies Sajan.
Sajan's wife's role Kashmira is played by Sapna Sikarwar. She ensures that she keeps an eye on Sajan though she is very loving. However, when she is very angry or sad, her grandmother's ghost enters her and beats up the person near her.
The other roles are played by Vaibhav Mathur who is a neighbor of Sajan and Melissa Pais who is a TV Presenter.
This show premiered on 7 March 2016 and from then has been a hit with the viewers.
May I Come In Madam's First Promo