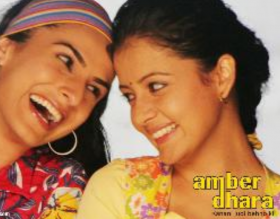 Ambar-Dhara was a famous TV Serial of Sony TV. It was a story of two twin sisters named Ambar and Dhara who were joined to each other by Body. But, they both were much different from each other. Ambar was a famous singer and Dhara was a famous student. In spite of this, they both were dearest to each other. They faced many difficulties in their life as they lead a unique life. But, at last, they had to chose a normal life to lead after their operation and they were separated finally. The show was aired from 24 Sep. 2007 to 24 April 2008. It was a new concept and something different from normal daily soaps in India.
Ambar-Dhara had a lovely title track sung by the Famous Singer Sonu Nigam.
Title Song

Another great song from Ambar Dhara.