Bhaskar Bharti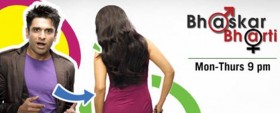 The Bhaskar Bharti is a famous TV Serial which telecasts on Sony entertainment TV, India. This teledrama is directed by Manoj Kotian and now the drama is telecasted in four days during the week (Monday to Thursday).
If you looking to a synopsis of the drama, you can easily say that the drama flows towards with the character "Bhaskar". However the casting team and the team have managed to provide a great output which is a mix of romance and comedy in a different manner. Because of this uniqueness of drama, now it has managed to reach a higher level on the popularity ladder and they are always trying to keep the same standards ever.
The producing team has done a great job while assigning character roles to respective actor/ actress and this makes the drama much realistic ever. Also they have adjusted the screening and the story in order to keep the flow and the interest of the drama accordingly. Therefore the viewers can watch the drama without getting bored throughout the air time of 24 minutes per day. This drama was premiered on 25th may '09 and by the time of now, it has managed to create a great audience crowd to the same and this is a good example to show the success of the drama.
The title track or title song of this show is just a small tune which can also be used as ringtone for your mobile and more info about it can be found India-Forums