Bhoot Aaya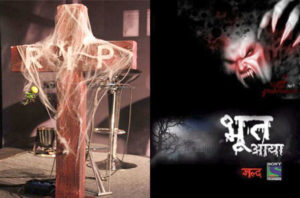 Bhoot Aaya is a horror show on Sony TV, and was premiered on 13 October 2013. A 35 minute episode will be aired every Sunday  at 11 PM. The show is produced by Akashdeep Sabir and Sheeba's Cinetek Telefilms Pvt. Ltd and directed by Ayush Raina. The director Ayush has even directed a movie named Horror Story which was recently released.
The show is based on real life stories of the ordinary people. It will scare the viewers and Gaurav Tiwari and other experts from Indian Paranormal Society will explain the reasons behind such unexplained terrifying events. The story is told from a victim's point of view and the events are reconstructed. It will be seen that how the ordinary journey of ordinary people become intense and terrifying because of the extraordinary experiences. The show basically focuses on events that are experienced by those who have lived to tell their story and realm of the supernatural. Every town, city or village in India has got a haunting story in which people had to encounter with possessions by spirits, exorcism , fear of the unknown etc.
The producer Akashdeep Sabir added that the show would depict *real life, spine chilling experiences of ordinary people.*
Do check out the first episode of Bhoot Aaya below:
In this episode there's a story showed of a boy named Prem who lives in Vrindavan, UP and how he got possessed by his neighbor who practiced black magic in her house. This is truly a spine-tingling story to check out that how much pain Prem goes through.
User reposnse to the show is not that good. They are complaining that the show lacks the thrill and horror that it promises. They are liking the old and successful shows like Aahat and fear files over this new show.