Boogie Woogie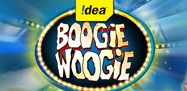 The real classy dance based reality show "Boogie Woogie" is just back again on Sony TV! This show is the excellent platform, where young talents can bring out their capabilities and potentials on to the lights. Getting into the 14th year successfully, this dance show has created the real delight and enthrallment. Many contestants of this show have turned as professional choreographers, models, actors, and performers as well. Don't you think it is GREAT? This show is anchored by Naved Jaaferi, and Ravi Behl. The show is all about dance, where the participants always are geared and tuned to do anything for dance. Contestants try the different style of dancing and express their hidden talents to the world. With positive encouragement, their come up with a variety of fusion dance and as well reveal their emotion towards dancing. After 7 competitive rounds, the winner of the show will be announced in the 8th round which is said to be a GRAND FINALE.
Title Song
The title song of Boogie Woogie is available on Sony TV Website (Setindia) for free download and link had been given from that website. You can also visit Sony Official Website to download the title song.
Visit Sony TV Official Site to know more about title Song.
Nice Video from Boogie Woogie