Ek Duje Ke Vaaste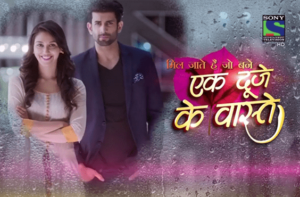 Amidst the interesting stories of various Hindi serials shown on Sony TV here is this another one which has lured the audience towards itself. Ek Duje Ke Vaaste, is one more example of a creative and perfect story line, started on 29th February,2016. The serial has mesmerized almost every age group and is continuing to grab a special place in the hearts of the audience.
The story plot displays the uniqueness of this keenly crafted family drama. The lead actors are very talented and are able to make the viewers set their eyes to the TV screen till the end of that single episode. Ek Duje Ke Vaaste is a tale of a girl, Suman, who have faith in being independent. After the sudden demise of her parents, Suman's grandparents , uncle and aunt raised her and made her capable enough to run her own small business in Delhi. Her life is going in a smooth flow where she has an aim to pay off her mothers loan amount. Suddenly she meets Shravan, her missing childhood friend and her life takes a different turn. What will happen next, is the question which pops up in every viewer's mind.
All adorned with emotions & some spices of family drama this serial has become an epitome of a fabulous storyline. In such a short duration it has created it's own significance. It has completed 90 flawless episodes and has become one of the favorite family drama for the people out there.
It will surely give you a break from those old and repeated story plots!
Title Song of this series is sung by popular singer Jubin Nautiyal