Kahani Teri Meri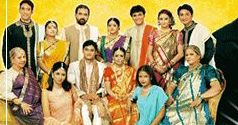 Kahani Teri Meri is a daily television serial that has been produced by Balaji Telefims. Aired on Sony Entertainment Television, the show has been produced by Ekta Kapoor and has been considered a replacement for Kutumb serial. This particular show has been well received by audiences throughout the country and was aired during the prime time slot. Many critics even considered this particular show to be Devdas on Indian Television shows. With extravagant and lavish sets built up for the show, it is considered to be the most expensive television serial that has been created. Both Balaji telefilms and Sony are not disclosing the total amount that has been put into production of this particular serial.
The story revolves around a character called Tara. As usual, the story is about a rich family who finds Tara as the perfect bride for their son Dhruv. Tara belongs to a not so well to do family. The twist in the story only evolves when she learns that Dhruv is affected with split personality disorder. The story then continues with Tara evolving as the care taker for her husband and how she faces different challenges which lie in front of her.
Title Song
Title Song Link is currently unavailable. If you find it please free to comment below.