Kuch Rang Pyaar Ke Aise Bhi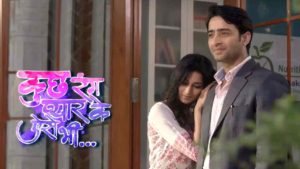 It is one of the favorite Hindi TV serial of every generation, which telecasts on Sony TV. It is a family serial which is captivating & catching the eyes of the audience since 29th February 2016. From the very beginning of the serial, it has stuck the audience to their couch for the complete duration of 30 minutes. The remarkable chemistry between the actors has made it look so real as if it's a real love story. It is upgrading the TRP of the Sony channel in a great way. Not only on Sony TV, it is also telecasted on Sony TV Asia and ARY Zindagi.
This attractive serial is about romantic love relation between Dev & Sonakshi and the impact of this love story on the relationship of Dev and his mother Ishwari, who share a very close bond with each other. Dev always had a wish to make her mother's dream come true. He lost his father in his early childhood & has faced severe poverty conditions, but after working hard and with determination, he is a successful man now. He owns a luxurious house and is a great business tycoon. He owes his success to his mother for always believing in him and supporting him. But there is a conflict between her mother and Sonakshi , whom he loves a lot. He is enforced to choose between the two. It is the most difficult decision of his life.
This serial is different from other serials majorly because it shows a very special bond of a mother and a son. It shows what a responsible man is like who is taking care of his mother, sisters & his lover. This serial is really unpredictable & addictive.
Over all, it's a positive serial and gives a good message to its audience.
Male Version Title Song

Female Version Song

Tu Mujh Mein Mujh Se Zyada Hai Full Video Song HD
SET India has brought to us the most romantic song from the series on Youtube. "Romance is in the air". Watch the video song below. Mindblowing chemistry between the actors and awesome music.