Sankat Mochan Mahabali Hanuman
**A TRUE LESSON FROM SPIRITUALITY**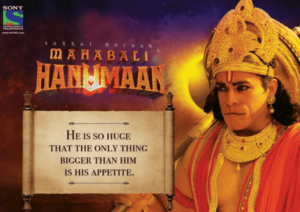 Jai Hanuman Giaan Gunn Saagar. Jai Kapiis Tihu Lok Ujaagar! Those of you who are religiously & spiritually inclined must be surely aware of this Mantra. All of us know Hanuman Ji as the Ram Bhakt and as Pavan Putra. We have always thought of him with the picture of Lord Ram in his heart. But few of us know about his life before & after he met Lord Ram.
So this is where you can start your learning process. Sony TV channel has been broadcasting a series called "Sankat Mochan Mahabali Hanuman". Its first episode was aired on the 4th of May 2015 and since then has enthralled audiences from Monday to Friday, 8 P.M in the evenings. It is based on the life of Lord Hanuman. It concentrates on all his virtues & qualities which we can try & imbibe in our lives. By following this series we could strive towards a growth in character, acquire the true meaning of devotion, self-control & unconditional faith; one learns to let go of his/her ego & find their inner self.
Title Song

Watch Online
Thanks to SONY TV now we can watch complete series online for free. All the episodes are uploaded by Official Sony's Youtube channel. Watch below or click on link below to visit youtube to stream.