Pyaar Ki Yeh Ek Kahani Songs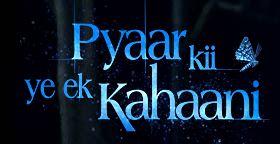 Pyaar Ki Ye Ek Kahani is a ongoing Love Story based drama series of Star One. Star One is quite popular for youth based TV Serials and gained enormous popularity among the youth after the launch of hit show Dill Mill Gayye and Miley Jab Hum Tum. Pyaar Ki Yeh Ek Kahani is another great TV Series which stars Vivian Dsena, Sukirti Khandpal and Priya Wal etc as the main leads. Sukirti Khandpal was also seen in popular show Dill Mill Gayye on Star One as 2nd Ridhima. Currently it is the most popular show on Star One due to nice love story between a human and a vampire which makes in unique. The title song and theme song of this serial is also very popular. It is somewhat based on concept of Twilight movie. It is Sci Fi based serial mainly about the story of college life set in Dehradun. Abhay (the vampire) is a student of college who falls in love with Piya and has to control his urge….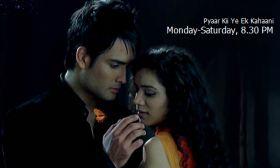 First Promo

About The Characters
Piya

Piya is a unique girl. She has her own ideas and own thoughts. She is not much trendy like some of her friends. She falls in love with Abhay…..

Abhay

Abhay is the handsome dude of college. He is smart and a has a stunning character. Abhay is in reality a vampire. Piya falls in love with Abhay and same happens with him. He has to control his love because he is a vampire and he can't fall for a normal human.
Pyaar Ki Yeh Ek Kahani Title Song
2 HQ Wallpapers of Pyaar Ki Ye Ek Kahani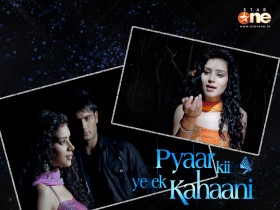 Pyar Ki Yeh Ek Kahani Songs
The title song of Pyaar Ki Yeh Ek Kahani is a love theme of Abhay and Piya which is quite popular.
These are only some tunes. There are many other background tunes from this serial. Some attractive tunes which comes in lovely scenes between Abhay and Piya are also available. For promos and other songs download visit Pyaar Ki Yeh Ek Kahani Songs Links.