Des Mein Nikla Hoga Chand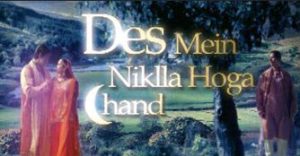 Des Mein Nikla Hoga Chand is a prime time television serial which was aired on Star Plus from the year 2001 to 2005. The show can be viewed on Star Utsav with repetition of the complete show. The main plot of the serial revolves around a girl and her conventional Indian traditional values. The show acclaimed many critics for a good plot and a meaningful story line. It has also obtained many awards presented for television shows.
Des Mein Nikla Hoga Chand Title Song
More about the serial: The story is about Parminder (played by sangeeta ghosh) who falls in love with Dev (played by Varun Badola). This happens when they meet at a marriage function that takes place in Chandigarh. The story takes a twist when Dev learns that Parminder is already engaged to Dr. Rohan who stays in London. Parminder now has to take a decision which will on a whole be the best decision for her, Dev and Dr. Rohan. The path may not be easy as she is a well traditional Indian girl. The plot passes through different hurdles and circumstances which in the end unites Parminder with Dev. The show has been well received by audiences throughout the country and also in United States and London.