Kis Desh Mein Hai Mera Dil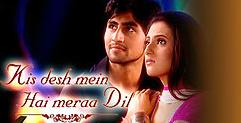 Kis Desh Mein Hai Mera Dil is a story about Lalit and Balraj, two close friends and the promise that transcends to Prem and Heer, their children. Balraj dies, and Lalit thinks that Heer is dead as well. But in fact she was alive and living in the same house. Balwant, who is Balraj's younger brother use his death as a good opportunity to make marriage of his daughter Ashlesa to Prem. But, Prem the leas falls in love with Heer and story goes on…
This Show was aired from March 3 2008 to Feb 5 2010 under banner of Balaji Telefilms and directed by Ekta Kapoor.
The title song of Kis Desh Mein Hai Mera Dil is also very popular.
Title Song