Kumkum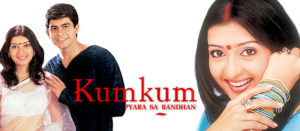 Kumkum – Pyara Sa Bandhan is an Indian television soap opera aired from Monday to Friday at 1:00 PM on STAR Plus in India and 1:30pm in the UK. The soap opera tells the tale of the Wadhwa family and its admirable daughter-in-law, Kumkum. The show used to tell the story of the married couple of Sumit and Kumkum Wadhwa, but in an earlier episode, Kumkum was shot, and in that Sumit killed himself. They were reborn, with Sumit being very shy and living with a big family in Delhi and Kumkum being born as a fun-loving prankster with her family in a village. Both hate each other after meeting in college, but due to some circumstances Sumit was kicked out of his house, and now they are acting as they are husband and wife in front of Kumkum's family locksmith commercial.
There are some good songs and tracks that were aired in this serial.
Title Song 1

Title Song 2

Title Song 3

Guitar Tuning of Sumit
We dot not provide access to any kind of mp3 songs so please visit India-Forums.com for music and songs downloads or visit Youtube for Video Promos.