Kyun Hota Hain Pyar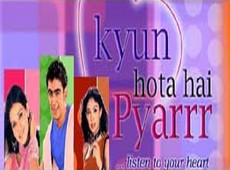 Kyun Hota Hain Pyar was a Hindi Television serial started on Star Plus channel, and it was aired from 2002-2004. It was re run on Star Utsav. The plot of this soap majorly included life of college students Nikki, Adi and Ash, their story of love hatred & jealousy. Nikki one of the main character was portrayed as a small town young girl who has recently arrived in a metropolitan city Mumbai. It showcases how she adjusts her life according to the new experiences of this fast and modern paced city life. She has some specific notions regarding love and is very idealistic about her thoughts. Adi and Ash are good friends but Adi falls in love with Nikki which Ash cannot bear and in her rage tries to focus her energies to break their relationship. There were other young actors who had some peculiar characteristics and roles that kept the viewers entertained and the kept the ball rolling for this show.
Kyun Hota Hain Pyar Title Song
Watch the title song of Kyun Hota Hai Pyaar serial below.