Raja Ki Aayegi Baraat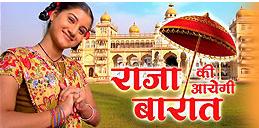 Raja Ki Aayegi Baraat is one the most popular shows on Star Plus channel and has been ranked at no 7 in top 10 rating of Star Plus. This TV Series was launched on 21 January 2008 and ran for more then 2 years successfully. The story of this serial is about Rani (a young girl) who is shy and simple. She is from a village and he mother is the only one working in house to earn money as her father has passed away. Rani is very loving and caring to her family and she wants make them proud. Aside from her mother, there is her Dadi and a young brother in her family. Like every girl if this age, she also dreamt of some charming and handsome prince would come and take her to his kingdom. A prince Yudishter enters into the show to make it more interesting.
Title song
For all the fans here is the title song video as promised.