Sach Ka Saamna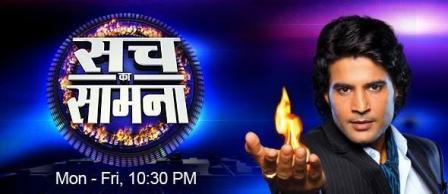 Sach Ka Saamna is the latest reality show which is introduced by Star Plus channel and the telecast of the program was started from 15th July '09. And they are planning to telecast this program in each week days from Monday to Friday at 10.30 pm (Indian time). Since this is a live program which has a different type of approach, the producers of the program hope this will hit the industry and the channel in a very short period of time. However as at now, they have broadcasted couple of programs from start of the program and they have provided satisfactory results accordingly.
Anyway the presenters and the producers of the program have the equal share of responsibility to keep the program alive and interactive. Since this is a live telecasting program, this interactivity is the key point to keep the program on the top of similar type programs available. Therefore all the team has to work a bit harder than a pre-recorded drama or a program. However with compare to the results showed during the first episodes of the program, we can predict that the program has a good future and it will perform better accordingly.
Also, Sach Ka Saamna is linked with lots of celebrities and it makes really sense to the fans of the program. Mainly the program is designed in a question and answer basis and the contestant is bound to provide the true answers to these questions if he/she is willing to go forward in the program and win the grand prize (1 Crore). So it is just simple as it is and the contestant only have to provide the true answers to the questions they are getting and they are getting the opportunity to get close to the 1st prize.
Though it seems like an easy thing, getting in to the final level is not easy thing and it depends on the luck and the knowledge. However mostly people get in to the show not because of the prize and they are getting some fun while they are participating in the program. Also the presenters always do the needful to provide the same sort of feeling and the experience to the audience in a certain degree and this is one of the major aspects of success.
However before getting into the game, the contestant has to answer few known questions and these few questions will use to analyze the truth of the answers provided throughout the game. Also these questions will become more personalized questions when they are going through the final levels of the game and become much harder than you ever thought. But this is the basic structure of the game and you need to answer carefully and you can approach to the 1st prize accordingly.