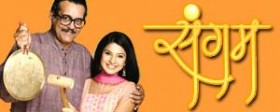 Sangam is from Fox Television Studios India on STAR Plus after their other show Meri Awaaz Ko Mil Gayi Roshni. It is a soap opera which ran for nearly 2 years from August 20, 2007 to March 6, 2009. Jennifer Winget, who also player role of Ridhima in Dill Mill Gayye after Sukriti, is the main protagonist and plays character of Ganga. Chaitanya Choudhury plays the character of Sagar in the main lead role and falls in love with Ganga.
About Ganga…
She is a shirpy girl who always wants to fulfill all her fathers dreams. She is ambitious and and wants to best for her family. She is supported by her father and family to make her dreams a reality.
The Story…
The story is about Ganga who tries to set her self in a big city from small and town and falls in love with Sagar. They both try to keep themselves separated but destiny unites them again and again.
Title Song of Sangam