Yeh Rishta Kya Kehlata Hai


Yeh Rishta Kya Kehlata Hai is a daily soap that airs on Star Plus. The series started on Jan 12, 09 and now comes Mon-Fri 9:30 PM. the story of this serial is based on the concept of arranged marriage that is in Indian Culture. The drama has been created by Director's Kut Productions and the story has been written by Rajitha Shrama & Romesh Kalra. The producer of the Serial is Rajan Shahi.
Title Song Video

The title song or the theme song of Yeh Rishta Kya Kehlata Hai has been sung by popular Alka Yagnik and is available for download at links below.
Story of Drama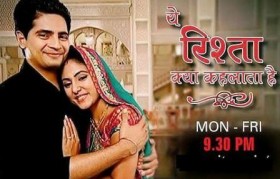 The story is of a girl named Akshara, who is born into a traditional Marwari family – the Maheshwari family of Udaipur. Despite being born in a rich family, Akshara is very simple and knows that her marriage will happen with the consent of her parents and family. Like most other young girls, Akshara also fantasizes her prince charming to be a film star or some celebrity, but distants herself from falling in love before marriage because she doesn't want to hurt her parents' feelings…. More Info
Pyar Mil Jaye Piya Ka Video

Pyar Ke Bandhan Song

Son chiraiya ab to udne vali hai

Khoyi Khoyi Dhadkan hai

Song Downloads
Title Song
Pyar Mil Jaye Piya Ka Song
To get all other songs and background tunes of Yeh Rishta Kya Kehlata hai in downloadable format visit India-Forums.com