Hitler Didi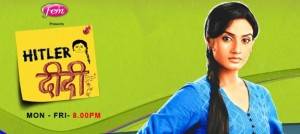 Weighed down significantly by the massive responsibility of single-handedly working for her big family, young Indira Sharma's character played by Rati Pandey actually forces herself into the intimidating task and the security of her family becomes her main aim in life. In experiencing the daily challenges on both the job and home, she loses her intellectual humor, her capability to feel inner emotions and becomes a strict disciplinarian, a perfectionist and a workaholic who is always on the edge of losing her temper. Enter then, the character of Rishi played by Sumit Vats, who is a tenant and his sunny smile, light-hearted humor and cheerful spirit actually comes like a relief or fresh air for a family unit that is beginning to sense exasperated under the control of their Hitler Didi. However, will sparks soar when such piercingly opposite personalities cross each other beneath the same roof? Will Rishi be victorious in getting Indira to dream, smile and love? Only time would tell!
Title Song Promo Video (from Youtube)

Watch another sad song (Zindagi Jung Hai) video from Hitler Didi

Playing the youthful, tough, career-driven and active Indira with assurance is the striking Rati Pandey. The supporting cast includes experienced actors like Sejal Shah, Rituraj Singh, and other well-known faces like Smita Singh, Sandeep Baswana, and Gargi Sharma. Making an imposing debut on small screen as the bubbly Rishi is Sumit Vats, a new male lead acting opposite Rati Pandey. The program is produced and written by Ila Bedi of Trilogy Krikos Productions and the show involves the brittle dialogues that are credited to Satyam Tripathi.
Download Hitler Didi Songs
Title Song
Zindagi Jung Hai
Bol Na Halke Halke (Instrumental Version from Serial)