Jhansi Ki Rani
** Jhansi Ki Rani by Contiloe Telefilms in Zee TV to portray an epitome of bravery of One Indian women- 'Rani Laxmibai' **


A historical TV show that clearly depicts the power of Indian Women is what the epic story Jhansi Ki Rani aired on ZEE TV is all about. A story of bravery, valor, treachery and love is centered on one of the greatest freedom fighters known in India- Rani Laxmibai who is known for her tales of bravery even among children of India.
The Tag line itself saying "Ek Veer Stree Ki kahani…" is here to help all audiences know that what a woman can do when she is determined to do something and prove her presence in the society. Helping audiences know the various facets of the most remarkable woman in Indian history this is a great attempt by Zee TV to help all those who are unaware of the Indian History get to learn about the same and that too in a great entertaining manner. A Show which even children love to watch portrays Rani Laxmibai in various roles of her life first as a daughter, than as a wife, a mother and a warrior who knows no hindrances.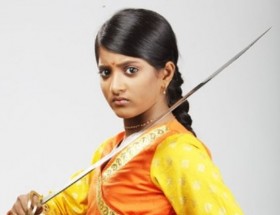 With Ulka Gupta playing the part of Rabi Laxmibai in the childhood or younger life era, this is a TV serial that will sure help in surfacing the long lost tale of bravery and valor that this Woman of substance has actually had and experienced in real life. Launched on August the 4th, 2009 this is aired Monday to Friday at 8pm on Zee TV.
Rani Laxmibai aka Manu in her young age is the daughter of Moropant Tambe who later on surfaces as an iconic and legendary figure in the Indian War of independence and was known by the Rani Laxmibai of Jhansi or Jhansi Ki Rani among common man.
An epitome of bravery this surely helps all those women who have lost hope in life get to learn that with courage and determination no battle can ever be lost. Try until you succeed and never accept failure without fighting and trying to succeed if not repeatedly but at least once in life. For the war against injustice and lie can be won by truth and in the end the colors this will add to the winners' life are truly something that are beyond words.
Jhansi Ki Rani Title Songs
Like the serial the title song of Jhansi Ki Rani is also very nice and popular and is worth listening and those who watch this serial will definitely like it online.
Title Song

Song 1

Song 2

Song 3

Download MP3 Version
or use this link- http://www.zshare.net/audio/64431176f1f65cc9/