Kasamh Se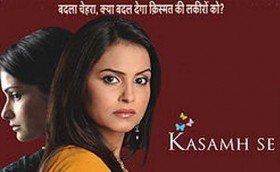 Kasamh Se is a daily soap of Zee TV produced by Ekta Kapoor under banner of Balaji Telefilms. Ekta Kapoor is already known for many poplar shows, main being the ones aired on Star Plus. It has been shown continuously for 3 years every Mon-Thu It is the story of a girl named Bani, who has two sisters- Piya and Rano. She was married to Mr.Walia but is not with him now because of the conspiracies of her enemy, Meera, who is the second wife of Mr.Walia. In total, the serial is a full tragedies and happenings. The show started on January 16, 2006 and ended on day of Holi i.e. March 12, 2009. At the end the old Bani (played by Prach Desai) was also present to give an end to the show.
Kasamh Se Title Song
The serial has a title song and some of the visitors had requested for the song. So, I have found the title song. It is by Nihira Joshi.