Tum Bin Jaaoon Kahaan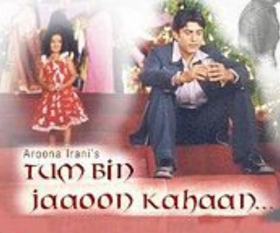 Tum Bin Jaaoon Kahaan was a Hindi TV Serial that was derived from novel November Rain. This serial was first Indian Drama that was made from a novel. It was aired on Zee TV in year 2003-2004. The story is based on life of Aryan who loses his girl friend in a road accident. He can't live without her as he truly loves her. Missing her badly he falls into depression and then tries all possible means to get in contact with her even though not possible. This gets interesting when he meets some Guru who decided to teach him the art of speaking to dead bodies and spirits. There are approximately 300 episodes.
Tum Bin Jaaoon Kahaan Title Song
Zee TV's Tum Bin Jaaoon Kahaan Title Song has been sung by Roop Kumar Rathod & Alka Yagnik. The singer Alka Yagnik is actually a Bollywood singer and she is known for many of her melodies songs. Same is the case with the title song of this drama. It is nicely sung and you must listen to it.