Vasl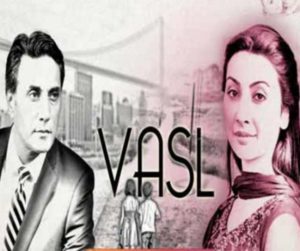 One of the popular Hindi serials that is lauded and pulling the eyes of the audience of all ages to give a watch is Vasal (Hum TV). This interesting and engaging serial was started on May 2nd, 2010. This has created a lot of hype and hoopla with intriguing teasers. Ever since it started, it has glued the audience to the seats for fifty minutes. The commendable performance of the notable actors in this serial has taken this stupendous serial to the next level. In fact, this has bought a phenomenal transformation in the small television industry. Apart from Hum TV, this is also being telecasted in Zindagi TV, India.
This beautiful serial is all about a happy couple residing in the US. The happy couple have two kids who are groomed in the US. Though, residing in the US, the lead female actor has always had a desire to meet her parents staying in Pakistan. One fine day, her husband gives the flight tickets to her to go and visit the US and meet their family along with the kids. After a few days, he calls his kids back to the US. Shockingly, he sends divorce papers to his wife who is in Pakistan. This TV serial is all about whether the female lead gives divorce to her husband and meet the kids who are residing in the US or not and what are the brave steps she takes to meet her kids and how she takes revenge against her spouse and whether her kids remember her or not.
Vasl Title Song
Though, this serial is based on the same story line of other serials, but the motherly love was portrayed well in this serial and every episode is thrilling and unpredictable. The episodes that were telecasted till June 2010 has all the commercial elements and mixed emotions. Eighteen episodes of this serial was telecasted in Hum TV and later was retrieved on January 2013.
In simple words, this family-oriented serial is the best entertainer for the people to unwind themselves after a tiresome day.