Humsafar (Zindagi TV) – Song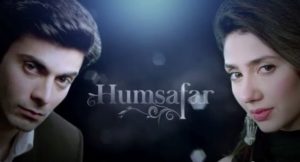 And just when everyone was thinking that Indian television series are all we get to see, Zindagi channel brought us one of the most beloved TV series from Pakistan- Humsafar. The story of the TV series has been based on the popular novel of the same name, penned by Farhat Ishtiaq. Humsafar has a love triangle, within paternal and maternal cousins Khirad and Sara respectively. It is quite a love angle between Sara and Ashar (played by Fawad Khan) as Sara loves him dearly but chooses not to tell him until he is all set to marry Khirad.
Baseerat (Ashar's father) is revealed that his sister (Khirad's mother) is suffering from cancer and her only last wish is to see her daughter get married to a suitable boy. To fulfil the last wish of his dying sister, Baseerat has his son marry Khirad which then brings chaos in the family as Baseerat's wife always wanted her own's sister daughter to become their daughter-in-law. Despite the drama and the ruckus, Ashar finally marries Khirad. Their married life is not even settled when Ashar's mother starts creating misunderstanding between the newlywed husband and wife. With an aim to separate them from each other, she tries hard to create pain and sadness which ultimately drifts the couple apart. However, fate brings them back again.
Humsafar Title Song
Humsafar is a beautiful story that focuses on the bond of marriage, highlighting what a couple might face and how the bond thrives with an undying love that always keeps it alive. To add to this story it features one the best compositions "Wo Humsafar Tha" song as its title song. The song originally by "Quratulain Balouchis" is loved by millions and is adopted in this serial. The video below is original title song aired on Hum TV (Pakistani Channel).