Maaye Ni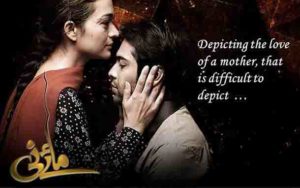 An upcoming TV series on Zindagi TV is Maaye Ni. This is a Pakistani show & enjoys great popularity in Pakistan. It is a heart-wrenching drama series between a mother & a son.
The story revolves around the mother Sabiha who is played by Samiya Mumtaz. She in spite of all her sacrifices after the death of her husband Faisal Qureshi is still unable to get the love of her own son Huzaifa. The character of the son is brilliantly played by Fahad Mustafa. Saibha after her husband's death comes to her maternal home to live with her mother & brother's family. The family then decides to remarry her to Sohail, who is played by Abid Ali.
Sohail is a widower & has two children of his own. Sohail, however, refuses to allow Sabiha to bring her son with her as he cannot accept Huzaifa as his son, that leads to various twists & turns in the story alongside various turmoils which mother & son have to go through. Upon growing up and getting married Husaifa's wife too ill-treats Sabiha. It brings to life the problems women face in their many roles of a daughter, sister, friend, wife, mother and then of a mother-in-law. It also shows how life changes as a result of incidents that take place and how blood relations ill-treat you & how strangers are more caring and show more love than one's own family.
The main characters of the series Maaye Ni are Sabiha who suffers tremendously and goes through all sorts of pain in life. She, however, is strong and determined & pushes on despite all odds. Sohail is a character which everyone loves to hate. His character is extremely real and the viewers end up disliking this character as it brings to life what one sees in real life. Huzaifa is the son who hates his mother but loves her at the same time.
Maha Malik, who has written the script of this drama series has done a superb job and has really excelled himself. The dialogues are retainable by the viewers and have a huge impact on them as well. These dialogues are really heart wrenching at times and very few are able to stop a few tears rolling down their cheeks. The director of this series is Babar Javed and he has done an outstanding job in directing this entire series. The background music too is brilliant.
This is a great drama that teaches children to respect their parents & shows husbands what a wife and mother goes through. It is a drama series that everyone can learn by and once it is watched, it touches the viewers live and they never look at relationships the same way again. This series makes you get up and realize what is important in life and how relationships need to be treasured and cherished as well as how it is important to see things from someone else's point of view.
Like other Pakistani serials, Maaye Ni too has a beautiful title song. Don't forget to check it out below. Due to immense popularity, even Atif Aslam has sung this in his life performances.