Meri Zindagi hai Tu Song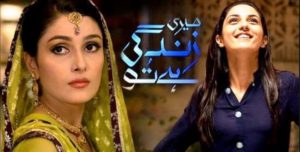 Zindagi TV is again coming back with an exquisitely themed ingenious TV show called 'Meri Zindagi hai Tu'. Based on the popular novel of Faiza Iftikhar 'Main Tera Khali Kamra Hun' and directed by the creative director Mohsin Mirza, the show focuses on the concept of love,confusion, and obsession between three characters. The main character Nazleen aka Nazo(or Aiza Khan) is a reserved yet caring person, who always thinks about others especially her niece,Meenu(Maya Ali). Meenu lost her parents in an accident and was left alone in melancholy as she was the only child in the family. Nazo takes the sole responsibility of Meenu. The life of Nazo revolves around two main people, one is Meenu who is a selfish and inflexible girl, and the other is Aman(Ahsan Khan) who Nazo loves and plans to marry with.
The first promo of this series:

Aman and Nazo both have always been uplifting to each other duringrough times and make a wonderful couple, until Meenu enters in their life and gets infatuated with Aman. She misinterprets the friendly concern shown by Aman as love, and this raises a series of confusion among them. Nazo who cares about both of them gets stuck in a difficult situation and at the same time, Meenu consistently makes efforts to create problems between the couple. This show is all set to hit the Indian TV screens and win the hearts of the audience after being a huge success on Geo TV in Pakistan. The talented star cast and the promising storyline are the main things to be watched for in this entertaining family drama.
Title Song (Meri Zindagi Hai Tu, Meri Har Khushi Hai Tu)
This is one of the best songs from all TV series currently on Zindagi. Immensely popular among the audience I am posting the video below. Check it out.