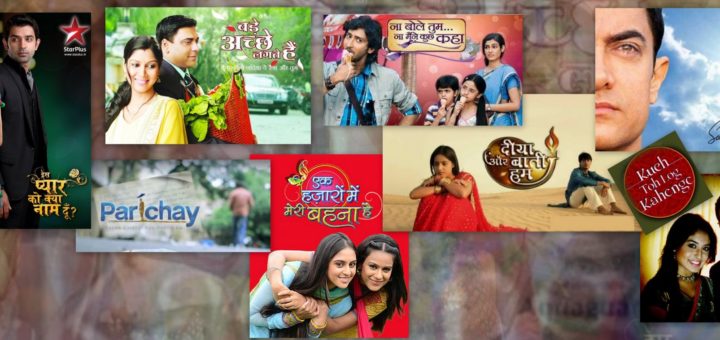 The Hindi TV serials are the exact portrayal of the emotions of Indian audience. Indians are in general emotional people and they like to watch the burning emotions on their television screens. This is the reason why the serial makers often put great emphasis on the music, background scores and title songs. As a matter of fact they are quite experimental about the music at times. Though there are serials where the conventional tunes are used to intensify the melodramatic situations like a hot "Saas-Bahu" fight or a romantic scene between two love-birds, sometimes they also use the popular old and new film songs for this. I popular series which has lots of awesome songs and background music is Is Pyaar Ko Kya Naam Doon (IPKKND Songs).
The usage of great background score and songs help them attract the Indian crowd and get them more involved in the daily soap. This is basically an efficient strategy to pull up the TRP rating of the serials. This is quite similar with the reality shows and competitions. They often need to build up tension during the result declaration and what except music can help them more. Sometimes the title songs of the shows become quite popular and people hum them like the movie songs. Hence lyrics and tune both are important for the TV serials.
The Hindi TV Shows industry has grown in leaps and bounds during the last years. The number of channels has increased and as a result the audience is getting numerous options. This is an undeniable fact that music and songs have played an important role in this excellent and rapid growth of the industry.
Now, considering the dance based reality shows, they ought to use the Hindi Songs and Bollywood Songs as they need different and versatility in music to dance upon. One common example is a popular reality show Nach Baliye, in which various couples (Jodi's) are contestants and they dance on bollywood numbers. Don't forget to check out Nach Baliye 6. The promos are out!!
Our website is even famous mostly for TV Serial and Dramas as we give you the info about all your favorite TV Serials, Dramas, Reality shows and give you a place to share your thought with the world. If you want a TV Show, Reality Cinema Information or Title Songs or Promos, you can request us for the song. Just click on "Contact" Link. We will try to fulfill your request.