Gutthi in Comedy Nights with Kapil
The character Guthhi is getting really famous and appreciated by audience as she's so hilarious and fun to watch in reality show Comedy Nights with Kapil. He's a boy named Sunil Grover who acts like a girl in a female avtar. He's a character in the show, named Gutthi who's the guest of the house.
The most funniest part comes when she introduces the guest with everyone. Like when Ranbir kapoor came in the most recent episode she introduced like:
Ranbeer Gutthi..Gutthi Ranbeer
Ranbeer Chahcha..Chacha Kapil
Kapil Gutthi..Gutthi Kapil
Kapil Audience..Audience Ranbeer
At the time of Hritik in Jhhalak dikhh laa jaa:
Gutthi Hrithik..Hrithik Gutthi..Dadi Hrithik…Hrithik Dadi..Dadi Gutthi…Gutthi Dadi
Her spontaneous funny and natural  acting makes the viewers go mad. After Kapil, she's the one who makes everyone laugh insanely.  If we have to give a rank in comedy nights with Kapil that whos's the most Funniest entertainer in the show I personally would rank 1st Kapil Sharma as Bittu and 2nd Sunil grover as Guthhi  and finally the 3rd rank Ali as Daadi
GUTTHI joke for Shahid Kapoor-
Gutthi – aap aye h comedy nights wid kapil m taare karte tim tim tim tim..
Shahid agar aap ban jao mere mobile k dual sim sim sim sim sim sim…
Phir hoga ek chota recharge…
Palak – didi phir ??
Gutthi – phir kya ??

Nagda nagda nagda baja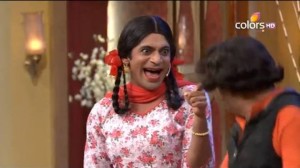 Gutthi joke for Hritik Roshan:
Aap aye hain humare ghar mein
phool khile hain gulshan gulshan
aap hain humare hritik roshan
tidding tidding tidding tiding
Awesome acting by Gutthi in the episode with Anil Kapoor. This one is worth watching. 😀

Wanna know what Sunil has to say about his look in the show? Do watch this video.

Our favorite Gutthi has been removed from the show 🙁 We want Gutthi back.