Iss Pyaar Ko Kya Naam Doon Songs
Iss Pyaar Ko Kya Naam Doon is a completely star-crossed love story portraying an appealing dissimilarity of personalities tangled in a relationship wavering between love & hatred. Arnav and Khushi have completely contradictory ideologies. If Khushi thinks of means, Arnav thinks only of ends. Khushi's relations are very vital to her, while Arnav believes all individuals come with a value and can be influenced for one's advantage. Khushi is an 18 year old girl from Uttar Pradesh, is straightforward, embedded in family and is focused by an obvious ethical compass. She firmly stands for what she genuinely believes and never allows her inculcated values to go away. She will not transform herself to obey the rules of individual's trivial expectations. In severe difference, Arnav is a 28 year old, merciless, 'win at all costs' guy who thinks everything can be easily purchased in this world, including love. Arnav has no contemplation for relations and no doubts for utilizing & manipulating individuals as pawns to attain his objectives. As the story moves ahead, their love-hate association witnesses a sequence of theatrical conflicts.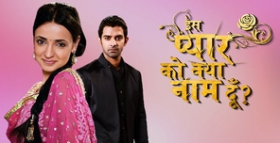 While Arnav continuously tries to smash Khushi's unwavering principles in order to demonstrate himself that he can easily control everybody whereas Khushi tries to constantly follow her principles & morals. Produced by Panglosean Entertainment Private Limited, this lovely and interesting serial drama has seasoned and adept actors like Barun Sobti and Sanaya Irani portraying the lead roles of Arnav and Khushi correspondingly. This serial is extremely popular among Indian TV viewers and is highly appreciated.
Title Song

Some nice love scenes with great background songs and music from Is Pyaar ko Kya Naam Doon
Songs Downloads
from India-Forums.com
Title Song
Tu Hi Bata Mere Maula Song
Rabba Ve Song (Romantic Version)
IPKKND Background Songs and Tunes Downloads
Khushi falls off the stage into Arnav's arms background music 
Arnav's Entry Part 1
Arnav's Entry Part 2
Khushi's Entry Part 1
Khushi's Entry Part 2
Tu Hi Bata Mere Maula Song (i.e. the new Rabba Ve Song)
Need more tunes and Songs if Iss Pyaar Ko Kya Naam Dun?
You can request us or you can visit India-Forums.com