Prithviraj Chauhan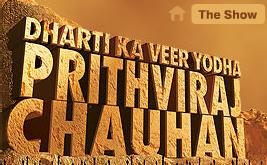 Prithviraj Chauhan aka 'Dharti Ka Veer Yodha Prithviraj Chauhan' is a TV based drama, which used to air on Star Plus. It is story of one of the strongest and famous Hindi kings 'Prithviraj' and how he falls in love for Sanyogita (the Princess). It is love story + action based serial mainly about history of Chauhan Dynasty. Sanyogita is actually daughter of Jaichand who is enemy of PRC. Prithviraj abducts Sonyogita on her Swayamwara….
This serial used to come on Star Plus daily from May 12, 2006 to March 15, 2009 and eded with huge success and high TRPs. It was produced by Moti Sagar, Meenakshi Sagar and Akash Sagar and directed by Noel Smith, Krishnakant Pandey and Manish Singh.

Video Songs of Prithvi Raj Chahuan-
Title Song

Har nazar

Download PRC Songs
Har Nazar Song
Jai Prithviraj Chauhan Song
Bam Bam Bhole
Yaroon Ke Hum Yaar
Mere Naam Ki Mehendi
I have found a link where you can have all the background tunes and scores that comes in PrithviRaj Chahuan, that website contains above tunes and following more tunes:
When Sanyogita saves Prithvi from BD's cliefs 18th March
When Prithvi saves Sanyo in the Jungle 25th May
When Prithvi come back From Yatra and Imagine Sanyo first time
when Sanyo comes to meet Prithvi after yudh & Prithvi see's her there
When Prithvi-Sanyo met First Time
Many more tunes
Get all these tunes plus all other background tunes at
http://www.india-forums.com/forum_posts.asp?TID=561489
The above link takes you to legal India website offering many services like music videos, forums etc.
Lyrics OF Prithivi Raj Chauhan Songs-
Here is the link to the lyrics of all PRC songs that come in the show. All the credits to respective writer and owner who wrote them.
Click Here