Rajni plans to search for a Job in Bahu Humari Rajni Kant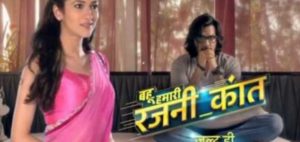 The sitcom series Bahu Humari RajniKant has managed to grab the attention of the audience with its unique concept and hilarious dialogues. The story till now has shown Rajni as a super robot whom Shaan has introduced to the family as his wife and Rajni has managed to make every feel that she is a perfect bahu but the story is not that easy, Surili, Shaan's mother in law, Shauguta, Rajni's daughter in law, Maggie and Sharmila, Rajni's Bhabhi all turn against her and are planning to throw her out.
Amrish, Rajni's father in law who used to love her like her own daughter has now turned against her and has divided the house. On one side we have Rajni, Shaan, and Dhyan and on the other side is the rest of the family.
The latest episode showed that Rajni, Dhyan, and Shaan are running with financial crunch and on the other side Amrish and rest of the family members are enjoying a gala lunch. He has ordered food from outside even for the servants. On one side, Rajni is cooking Khichdi which Shaan refuses to eat and on the hand the family is enjoying scrumptious food. Seeing all this, Dhayn decides to find a new job and goes for an interview. At the same moment, Rajni also feels that she should earn and starts searching for a job. The next episode shows Rajni going for an interview but gets rejected as she didn't have the certificates. Surili will offer the job of a servant to Rajni. Let's see if Rajni will accept the job and if yes what will Shaan do? Will he allow Rajni to work as a servant or will he go out and earn? Whatever the case be, the coming episodes of the serial are going make the audience laugh out loud.