Watch Diya Aur Baati Hum Online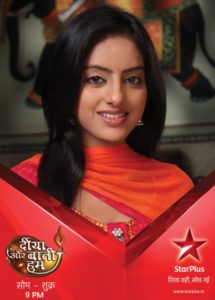 Diya aur Baati Hum serial has got the highest TRP. It is a daily soap which airs on Star Plus. It started on 29 August 2011 and is also dubbed in Tamil known as  En Kanavan En Thozhan.
*Deepika Singh and Anas Rashid are the main leads of the serial.*
STORY-LINE: Deepika Singh (as Sandhya Kothari) who is an ambitious girl wants to become an IPS officer. She has the full support of her parents and they encourage her.. She is daughter of Kanchan and Arvind Kothari and lives with her family including her brother named Ankur and sister in law Ankita.  Suddendy she looses her parents in a bomb blast and Ankur start finding a suitable groom for her. Finally she gets married to a guy named Suraj Rathi who comes from an uneducated family but Sandhya is unaware of the fact that he is not educated because Ankur lies to her that Suraj is MBA and government officer but in really Suraj was a sweet maker(Halwai) who just passed 9th standard. Suraj loves Sandhya so he encourages her study further and fulfill her incomplete dreams.
Story Update: Sandhya didn't use to like Suraj and felt cursed to have such a husband but Suraj's love for Sandhya was pure and immense but later on she realized how lucky she was to have such supporting and loving husband. Suraj andSandhya being totally different falls in love with each other.
This story is about how Sandhya faces problems in her in-laws house and she deals with them but the main question is will be able to fulfill her dream of becoming IPS officer and fulfilling her parent's dream.
To find out watch the show on Star Plus Monday to Friday 9 PM. You can now even watch this show online. Star Plus has uploaded all the Diya aur Baati Hum episodes online.
Watch Diya aur Baati Hum Episodes online
To watch Season 1  – Click Here
To watch season 2  – Click Here 
To get the title song- Diya aur Baati Hum Title Song