Hip Hip Hurray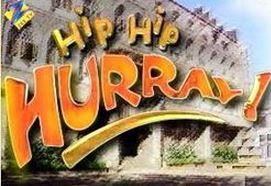 Hip Hip Hurray was one of the most energetic and popular drama Hindi Television series that encompassed lives of a group of young school students. This soap was created by UTV Software Communications and directed by Nupur Asthana. Under the combined production effort of Ronnie Screwvala, Zarina Mehta, and Deven Khote Zee TV aired this show for a period of 3 years span (1998-2001) which included season 1 and its sequel Season 2.
The story revolves around the lives of 12th grade Denobili High School students, which is filled with their adventures, aspirations, fears, hopes, their friendships and relationships. The show also had some elements of young generation issues such as careers, health, dating, fights, and heart break to keep the audiences interested and anticipating. The first season with 80 episodes focused their adjustments in their new class and revolved around their student life, the second season (55 episodes) showed their life on campus with love relationships- break ups, teacher student's interactions and pressures of future.
Hip Hip Hurray Title Song
Watch the title song below.