Feriha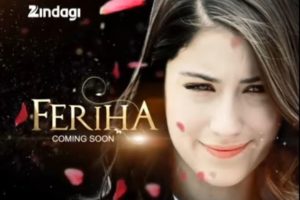 Zindagi TV which is one of India's Premium TV channels released a new show named Feriha in September 2015. This is actually a Turkish TV serial, which is written by Melis Civelek and Sirma Yanik, directed by Faheem Burney and is produced by Med Yapim, this serial was originally known as Adini Feriha Koydum.
This is a very powerful drama & the story revolves around a young girl named Feriha Yilmaz, who is extremely pretty. Her dad works as a doorman in Etiler which is an elite neighborhood in Istanbul & her mother works as a housekeeper. Feriha was able to get a full scholarship as a university student in a private university. Due to the fact that the students come from high-class backgrounds, from day one Feriha poses as coming from a wealthy family.
Among the other students is a playboy Emir Sarrafoglu. She lies to him about her life and her background & despite his nature as a playboy Emir falls hopelessly in love with her at first sight. Feriha too falls for him. On the other front, her family arranges for her marriage with Halil. Halil accompanies her to the university & there notice the interactions she has with Emir and is livid upon seeing this. The end of the first season is the shooting of Feriha's mother by Halil. In the second season, Emir finds out about the lies told by Feriha by a plan which Cansu set up. He breaks up with her and leaves her. After that, they both start torturing each other physically & mentally. He even rents an apartment where Feriha stays in the basement.
When on New Year's eve Feriha is kidnapped by Hallil, Emir saves her. They rekindle their romance, forgive each other and are reconciled. However, her family on realizing this relationship decides to banish her to the village. On the way to the village, Emir takes her with him and marries her. This marriage is not divulged to their families, however.
When Cansu tries to kill them both and they are hospitalized, their marriage gets revealed. Both families are furious and shocked and so the couple faces a hard time. As the story progresses, she divorces Emir and goes to the US. When she returns, she finds Emir getting engaged to Ece so that she will be protected from Yavuz. Feriha and Emir then clear the misunderstanding and they marry each other again. The season ends with Feriha as well as her mother getting shot fatally by Halil. The season ends with her dying in Emir's arms.
Due to the powerful story, natural acting as well as the real-life scenes and emotions, this serial has been immensely popular in Turkey and the serial now extends beyond natural boundaries and is broadcast around the world. Wherever it is aired, it enjoys a roaring success.
Feriha Songs
Title Song with the intro of both the actors. Check it out below:

Another beautiful melody from this series and their best images in slideshow.